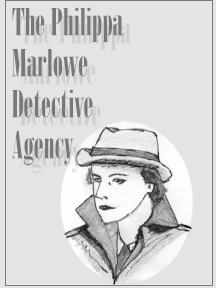 The Lesbian Detective Novel Fan Site
Welcome to the office!
If you were looking for the boss, needless to say Pippa is out of the office on a case at the moment. I'm Andi and I look after the office while the boss is out, Perry Mason had his Della Street, Philippa has me.
The boss and I are great devotees of lesbian detective novels, those tales of mystery and detection where the main protagonist is a lesbian. However there seem to be few places on the internet which discuss this topic: hence her feeling that we needed a website. However having a website is only half of it, they need maintaining.
The boss has decided that we need a full revamp as I've been neglecting the site for ages, while she's been off doing exciting gumshoe stuff she thinks I have nothing else to do I suspect. So we're going to be doing that. I'm planning on an upated look, something in the streamline style (don't want to say Dieselpunk, the boss might get the wrong idea). So it's going to be new colours, and probably a revision of the logo too. I've also been doing a bit of writing myself, and this may appear in a new section.
Like all the other good fictional detectives we spend much of our time sitting around the office waiting for clients to turn up with a juicy case for us (which we will end up solving for nothing). Therefore the boss suggested I could do something useful and make a start on it while she popped out for coffee, donuts, and other assorted detective fiction cliches.
I've been seeing what new books there are out there too, and there seem to be plenty to provide new review fodder, and since the last chunk of updating there are eBooks too. Good to see that all the publishers are still around, though several of them seem to have new logos.
Please check back at regular intervals to see how we are progressing, and also please send me your ideas and comments. We don't have a counter on the bottom of the page to distract you, so it will also give us an idea of how many, if any, visitors we are getting!
This page written and maintained by Andy Smart
The Philippa Marlowe Detective Agency.
Last updated 23rd Feb 2020, review of Indiscretions